Kona Bikes - For Freedom and Empowerment
Since 1988, Kona has been a company of dedicated cyclists working to create quality bicycles for all kinds of riders. With the same owners since its founding, Kona has kept true to its original principles and beliefs that bikes are all about freedom and empowerment, and that is something that everyone can appreciate.
While Kona isn't the largest cycling company, it surely isn't the smallest, and Kona's skilled team of innovators continue to bring the best of the cycling industry into the hands of pro riders and everyday cyclists all over the world. Check out our selection of Kona bikes and see which Kona is right for you.
Want to see all our Kona bikes for sale in one place?
Or read on to explore Kona bikes by category.
Kona Electric Bikes
Kona electric bikes are all about making the miles a little easier so you can ride farther and faster than ever. Oh, and have a lot more more fun! If you're a commuter, you'll love being able to get to work faster and without sweating up a storm. If you ride trails you'll be stoke on how much more you can climb and how long you can make your loops.
Kona Dew-E & Dew HD: a utilitarian commuter ebike with all the bells and whistles
Kona ECoco & Coco HD: a stylish electric city bike with a step through frame
Kona Libre EL: a performance focused electric road and gravel bike
Kona Rove HD: a budget friendly electric road and gravel bike
Kona El Kahuna: a hardtail eMTB for exploring off road
Kona Remote: a trail focused eMTB with hardtail and full suspension models
Kona Mountain Bikes
Every since Kona burst onto the mountain bike scene they have been constantly fine-tuning their off road machines into high performance bikes known for responsive handling, astonishing capability, and overall fun. With a whole fleet to choose from, there most definitely is a Kona to suit how you like to ride off road.
Kona Hardtail Mountain Bikes
Hardtails put Kona on the map and have continually pushed the standards for cross country racing, trail riding, and bikepacking.
Kona Honzo: the original aggressive trail hardtail
Kona Unit: a bikepacker's dream bike
Kona Mahuna: 29" wheels & 100mm travel
Kona Cinder Cone: 27.5" wheels & 100mm fork
Kona Lava Dome: entry level 29er MTB
Kona Fire Mountain: entry level 27.5" MTB
Kona Full Suspension Mountain Bikes
For more aggressive trails, Kona's full suspension bikes are the perfect way to conquer the mountain.
Kona Hei Hei: short travel trail and XC bike
Kona Process: all around, ride-anything MTB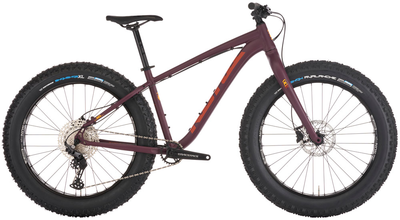 Kona Fat Bikes
Kona fat bikes combine nimble handling with terrain crushing capability.
Kona Wo: a budget friendly fat bike
Kona Woo: a performance focused fat bike
Kona Road, Gravel, and Touring Bikes
Kona said it best, "Not all roads are created equal." They know that the roads people love to ride aren't always perfect, so they develop road bikes ready for long distance cycling over all kinds of pavement, cobbles, gravel and dirt. Wherever you ride you'll feel confident aboard your Kona spaceship as you fly through the landscape.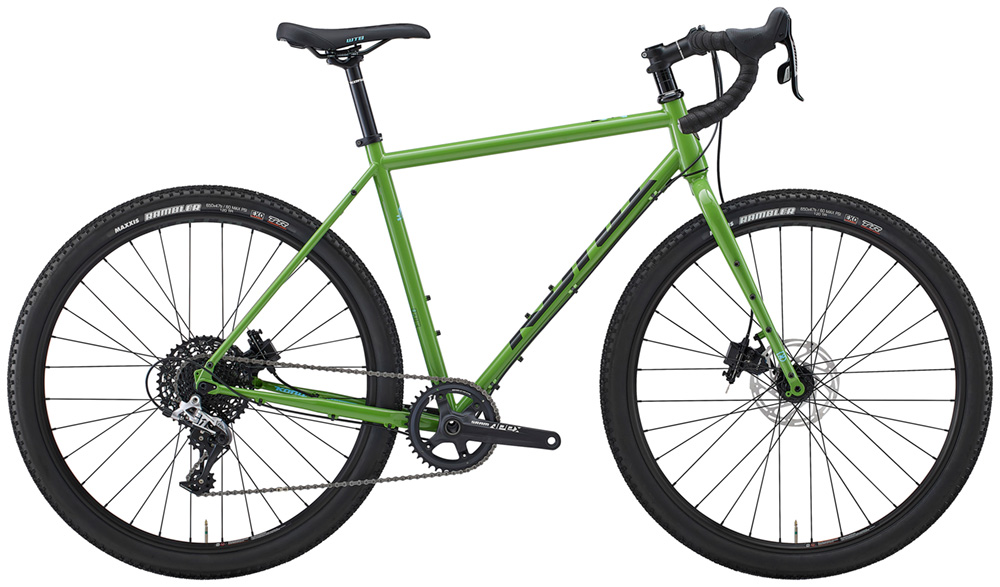 Kona Road & Gravel Bikes
Kona's all-road and cyclocross bikes bring pace and handling when the going gets tougher.
Kona Rove: the perfect all around gravel and adventure bike
Kona Libre: a performance minded gravel bike
Kona Jake: a fun and fast cyclocross bike or drop bar commuter
Kona Touring Bikes
Kona touring bikes are perfect for the days when you feel like quitting your job and riding across a continent.
Kona Sutra: an adventure machine for hauling gear and exploring
Kona Hybrid, Fitness, and Commuter Bikes
Most of our first bicycles were what Kona calls an everyday bike, a bike that's comfortable, works great, and is pretty much all you need for most of your everyday cycling needs. Their line of hybrid, fitness, and commuter bikes bring performance, reliability and affordability to the masses, because more people on bikes can only be a good thing.
Kona Dew: the perfect comfortable and capable commuter bike
Kona Coco: stylish commuter for cruising around town
Kona Splice: versatile hybrid with front suspension and knobby tires
Kona Kids Bikes
It's hard to beat the power of the bicycle when you're a kid. It's freedom and fun wrapped up into one, and it sets us up for a lifetime of enjoyment. Kona makes great bikes for kids to learn on, explore on, and discover the joy of riding a bike. These bikes are safe, well made and ready for the inevitable punishment of being owned by a kid.
Kona Process 24: full suspension kids bike for your riders serious about trail riding
Kona Honzo 24 & 20: trail ready hardtail for budding mountain bikers
Kona Hula: rigid 24" MTB that's great for kids woh love to ride on dirt
Kona Makena: rigid 20" MTB that makes off road riding safe and fun